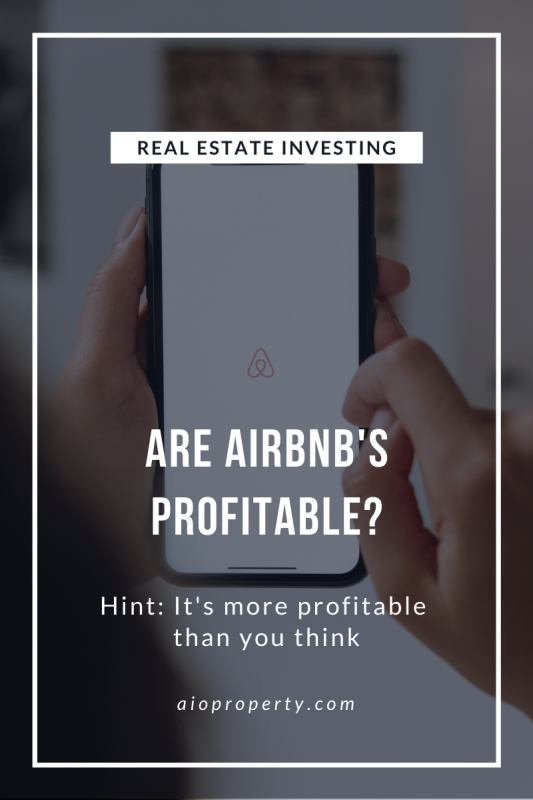 Whether you've stayed at a short-term rental such as an Airbnb or are just interested in running one yourself, owning a short-term rental is an excellent way to generate passive income. The short-term rental industry, spearheaded by companies like Airbnb, VRBO, and HomeAway, has been rising around the world since 2008. In just 12 years, Airbnb has grown to a 30 Billion industry. Notably, on December 9, 2020, Airbnb's initial public offering (IPO) began. On December 10, 2020, the company's shares started trading on the market as the company proves that its business structure can still be profitable, even amidst a global pandemic.
Particularly, warm weather coupled with reasonably affordable housing, places like South Florida continue to be a great place to own or operate an Airbnb and is one of the company's top profitable states. While it is true that the entire state of Florida is excellent for Airbnb rentals, more than half of the top profitable cities are located in South Florida.
Below we will discuss the top reasons that Airbnbs continue to be profitable worldwide, even in 2021.
A Diversified Pool of Tenants
By operating an Airbnb, you essentially get to spread your risk across several tenants and not just one. Specifically, when you rely on only one tenant for your rental income, if they stop paying rent or face some type of unexpected financial hardship, your income will suffer immediately. Not to mention that it may be harder to evict a long-term tenant depending on what state your property is located in.
On the other hand, when you use your investment rental as an Airbnb, you regularly collect your income from multiple tenants. In other words, each tenant represents a small percentage of your annual income. As such, when one booking cancels or is a no-show, this will not have as much of an impact on your income compared with a long-term tenant not paying rent for a couple of months.
It's More Profitable  
In general, Airbnbs are typically more profitable than renting the same apartment or home on a long-term basis. This is mainly because you can typically charge higher nightly rates for short-term rentals. According to AirDNA, The average nightly rate for an Airbnb in Miami is $175 per night. This means that if your Airbnb were rented for a full 30 days, you could generate $5,250 in income. Even renting the property for only 20 days out of the month generates approximately $3,500 in revenue, both of which exceed the average monthly rental rate of roughly $1700 in Miami. Overall, your average occupancy will not change substantially throughout the year, especially if you price your Airbnb correctly.
Become a Superhost for Additional Income
For those Airbnb hosts who can achieve "Superhost" status, the passive income potential nearly doubles. Launched in 2009, the Superhost program was implemented to recognize those hosts who set a high standard when renting on the platform. In other words, these are Airbnb's top performers and those that consistently receive a 5-star rating at least 80% of the time. Airbnb hosts strive for this coveted status, as it increases bookings on the platform.  In fact, it is not uncommon for Airbnb Superhosts to make six-figure incomes off their Airbnb rental.
Less Wear and Tear to Your Property
A common misconception is that your property will endure more wear and tear if used as an Airbnb rental. However, this is not true. In general, your property will experience LESS wear and tear when used as an Airbnb rental. This is mainly because short-term guests don't stay at your property long enough to cause any type of substantial damage to your property. And if there is any small damage, this is typically settled between the guests and the hosts or by the Host Guarantee program with Airbnb. Additionally, if your short-term guests cause damage to your property, you will typically catch it while turning over the property for the next guest. Therefore, you can catch small problems before they turn into more significant issues, which usually cost more to repair.
You Can Rent on A Part-Time Basis Or When Demand is High
One of the main benefits of operating your own Airbnb business is that you can decide how often and what time of year to rent your property for the greatest flexibility. In fact, many Airbnb hosts use a mixed approach when renting out their property on Airbnb. This strategy is beneficial for those renters who may be restricted in the number of days they can rent their property on the platform (e.g., in situations where building rules or city restrictions place restrictions on the number of days a host can have short-term renters.). Additionally, a mixed approach is used by those renters who have properties in areas where, at a particular time of the year, Airbnb's are in high demand. For example, during the summer months, Airbnbs are traditionally in higher demand everywhere. Or on the other hand, a ski town may see increased demand for Airbnbs during the winter months/ski season (i.e., November – April).
The Bottom Line
While the global Coronavirus (COVID-19) pandemic may have put a temporary dent in Airbnb profits, the data coupled with Airbnb's IPO suggest that the company and the sharing economy will not be going anywhere anytime soon. As such, if you live in an Airbnb friendly state or city, like South Florida, now is the time to consider getting into the Airbnb business to generate additional passive income.
Need Help Managing Your AirBNB?
We help manage several AirBNB properties. Feel free to reach out if you have any questions about how we can help you manage and host your AirBNB properties – [email protected] or (954) 251-0181.